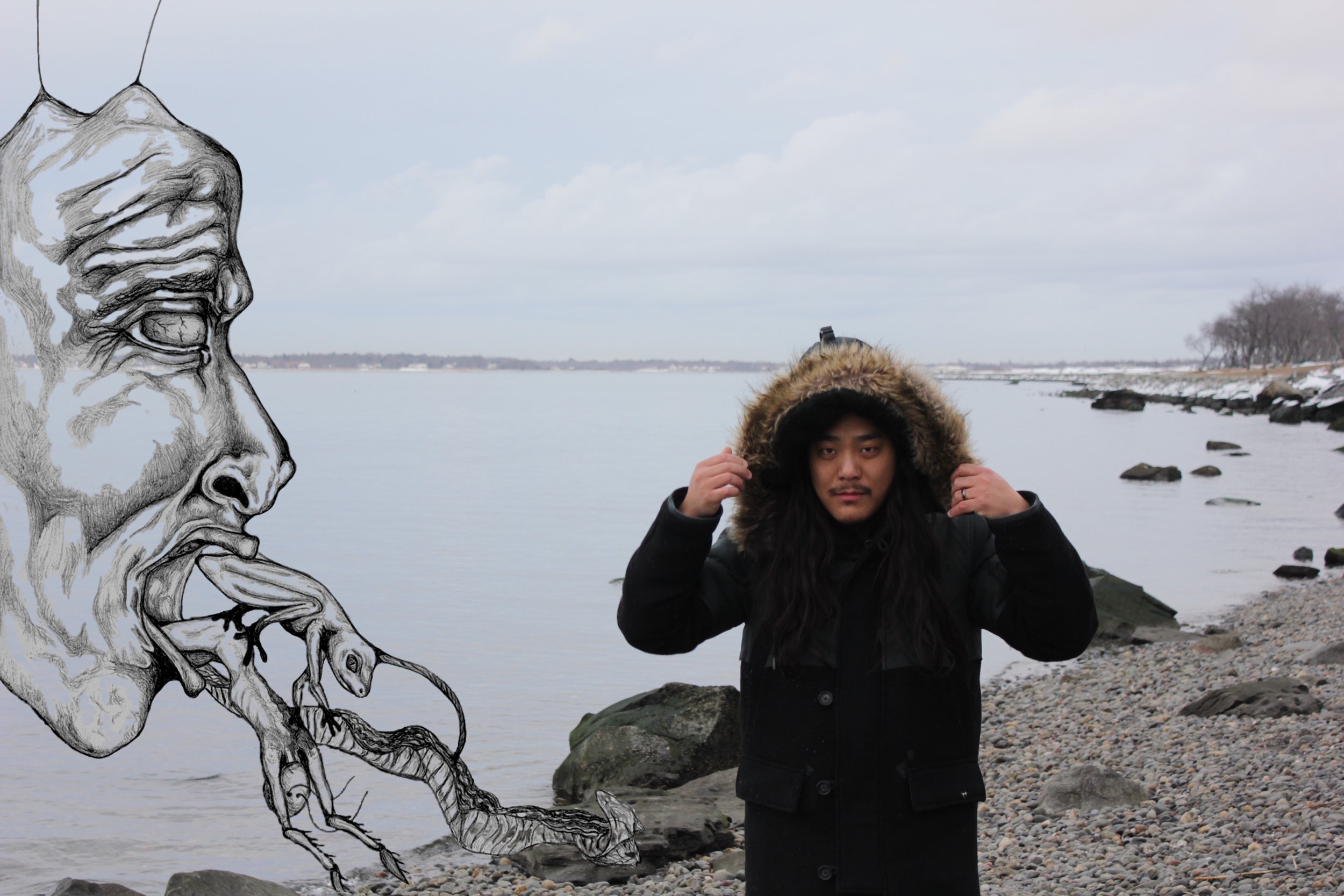 For the past 10 years, Corey Stroffolino has made a career from being a touring musician. First as the frontman for Providence-based alt-rock/emo outfit The Attending, and more recently with expansive post-hardcore band La Dispute. Nevertheless, Stroffolino has always had a hunger to combine his love for comedy with his "day job". This week his dream becomes a reality.
Simply put, 'Everything's Real b/w Live At Silver Bullet Studios' is split EP with… himself. Side A sees Stroffolino flex his musical muscles under the moniker of Yoon Yung – his Korean name. Incorporating elements of soul and R&B with soothing indie rock, 'Everything's Real' sees Yung explores the idea of time passing by and the anxiety it brings.
The second half of the split, 'Live At Silver Bullet Studios', captures Stroffolino performing a stand-up routine. From addressing his background as an adopted South Korean to an American-Italian family to video games being 'too dark' to using Google Chome's 'Incognito' browser, Corey provides a hilarious insight into his life.
Ahead of its release this Friday, Already Heard is proud to be premiering 'Everything's Real b/w Live At Silver Bullet Studios'. We also recently spoke to Corey Stroffolino to discuss the split, his comedic influences, La Dispute's next album, and more.
AH: Hi Corey. 'Everything's Real' is your debut release under your Korean name – Yoon Yung. Stylistically, how would you sum up the Yoon Yung side of the split?
Corey: I think I probably set out to do something along the lines of Frank Ocean meets Dinosaur Jr. You know, one of those far-reaching marriages that sounds crazy on paper but is fun to envision. I don't think it sounds quite like that, but my initial excitement for creating music at the time of this project's infancy was probably along those lines. I hope that it's a respectful sum of my influences at the time of writing and recording. I think it is. I also hope whatever combination is held within the music feels in some way new. That's the harder part. I think music is starting to become something that doesn't have to be put into categories. There are no rules and that's exciting. It also means there is so much stuff being made all the time. It's very hard to make things that sound classic and for the future. That's the lofty goal for this project.
AH: What was the motive behind starting Yoon Yung?
Corey: Aside from playing guitar the last 4 years in La Dispute, I had another band for a long time called The Attending. That band slowly started dissolving and it was a pretty natural transition into a new project. I did want to lean a bit in a different direction and it just felt like the right departure point to chase it down. The Attending was more punk/hardcore/emo adjacent. I wanted to do something more groove-oriented and farther reaching in influences. Speaking of using my Korean name. Initially, that was specifically to separate it from my comedy. I take music and comedy equally as serious as art forms. I just don't want to make funny songs. Naming it Yoon Yung was interesting because being adopted, I really have never lived in that name. But it's a part of me. Not everyone has a second name and in a weird way, I get to create that missing identity through art and music. That's a strange and unique thing.
AH: There's a definite soulful R&B vibe on 'No Town' and 'Heavy Ghost'. Considerably, it's a departure to what La Dispute sound like. Who do you regard as your influences on 'Everything's Real'?
Corey: I was listening to a ton of two things in particular at the time. This EP called 'Damn Sue' by a singer named Sam Dew. He has an insane voice. I caught him as an opening act in Boston and was blown away. There was such a startling simplicity in the execution of his live show that was totally captivating. Anytime he went into falsetto people just cheered out of pure fascination.
I was also listening to a lot of St. Vincent's self-titled record. She's a guitar hero of mine for sure. I feel like her approach unlocked something new in the electric guitar for modern music fans that just wasn't happening before. So, that is what I was aiming for. A deep sense of groove with some reckless guitar and punk in it's DNA.
AH: The other side of this split is a live recording of you performing stand-up comedy. How did you first get into stand-up and how long have you been performing?
Corey: I first tried stand-up only a few years ago. It's something I always have wanted to do. Comedy might even be my first love before music but by 14, music just took over everything. In 2015, La Dispute was out on our tour with Envy and Wildhoney and I declared to the guys that I was gonna at least try stand-up as a resolution for turning 30. Then I turned 30 and had to keep my word. I did an open mic in Providence RI, January of 2016. Thankfully I didn't completely suck and a few people in the community were really supportive so I kept going with it. It was all very intimidating at first.
AH: In terms of influences, what comedians did you watch while growing up and who has influenced your style?
Corey: My favourite comedians I grew up watching are Chris Rock and Norm Macdonald. I don't know if anyone has a better presence than Chris. The energy in his old specials was like a tidal wave. He was unstoppable. Then in his new special "Tambourine" on Netflix, he toned down his energy but his presence still remained. That was a big lesson. It's not always energy that gives you command of a stage. Also, I watched this interview with him where he talks about how most people want a laugh, laugh, laugh. He says he wants something along the lines of "laugh, boo, laugh, gasp!". I love that. It's the full spectrum. He WANTS all of that. If you MAKE people gasp or boo, that can be part of it.
Norm, on the other hand, is just continually fascinating to me. I think he has one of the most singular voices in comedy. As far as I can tell, he is the purest joke-chaser there is. He can make anything funny because he finds the way in. He will find just the right string of words or inflexion to make things work. It's all very calculated and fearless. Honestly, youtube any other comedian telling a Norm story. They are all amazing. Watch his monologue from hosting SNL after he was fired shortly before. Watch his roast of Bob Saget. Watch the "moth joke" on Conan. Then watch his last appearance on Letterman. He's the best.
AH: On 'Super Adopted', you discuss being a South Korean adopted by a white Italian family. As a comedian, do you think being confident to be self-deprecating is a vital element?
Corey: I think knowing yourself, in general, is vital to comedy. Music too. I don't know if it's a result of being confident or just a lot of ups and downs that help you find yourself. However, digging deep usually bodes well for art. It takes a degree of discomfort for sure. I guess there is confidence in facing the discomfort.
AH: Has life as a touring musician inspired your routine in any way?
Corey: Well I only really have one story, and that is from my life as a musician so far, that's a part of my comedy. The story on the track 'Booty Connoisseur'. I'll let people draw their own conclusion on how that title relates to playing music. But it's probably not what you think if you haven't heard the joke yet!
I will say this, playing music allowed me to not be as afraid of bombing on stage in comedy. Everyone will do it. I've done it in comedy and music! It sucks but the world spins on and you live.
AH: You've been performing in the Northeast. Do you have any aspirations to take your comedy elsewhere? Also, can you ever see yourself taking music and comedy out on the road at the same time?
Corey: I 100% want to do comedy anywhere and everywhere. I still have a lot to learn and a long way to go but I definitely want to be a great stand-up and travel doing it. I have plans to keep on both sides of this, playing as much as my schedule will allow. Hopefully, that includes a fully realized show representing both my comedy and music! I'm working on seeing if this is doable at this stage. I just want it to be right if it happens. But I def want it to happen!
AH: What's the weirdest thing you've Googled in 'Incognito mode'?
Corey: Comedian, Carrot Top's net-worth. It's $75 million according to Google. He is not "critically" well-respected in comedy. Respect. See, if you know yourself you can dig-in and make it work for you. If any readers are not quite sure who he is, head down that rabbit hole. I'll go with you.
AH: We see La Dispute have recently been working on a new album with Will Yip. What can you tell us about the record?
Corey: Not a ton honestly. It's hard for me to know where it will fit among their other records because those other ones, I'm a fan of first. This is the first record I've contributed to creatively. If you love it, that's all me baby! If you hate it… it's someone else's fault. Not really. We have been working on it for a long time. I think that it will be very, very worth the wait.
AH: More importantly, what is the best trick shot Will Yip (La Dispute producer) can do?
Corey: Anyone that I filmed. I believe it was the Apostle Paul that said: "A sick trick shot is only as good as how Director of Photography: Corey Stroffolino captures its essence. The one's other people film are always garbage".
Also, I like the ones where they bounce the ball off each other's heads.
'Everything's Real b/w Live At Silver Bullet Studios' by Yoon Young / Corey Stroffolino is released on 6th April on Skeletal Lightning.
Yoon Yung links: Twitter|Bandcamp
Corey Stroffolino links: Twitter
Do you have a new video or release you'd like to premier on Already Heard? If so contact Sêan Reid to find out more.