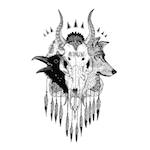 The organisers behind the ArcTanGent festival have added 33 bands to this years line-up with the likes of God is an Astronaut, El Ten Eleven, Tall Ships, and I Like Trains joining the line-up.
Other names announced today are:
Year of No Light
Alarmist
We Are Knuckle Dragger

No Spill Blood
BATS
Lost in the Riots
Cleft
Olympians
Shiver
Human Pyramids
Astrohenge
Diagonal
Rumour Cubes
Monsters Build Mean Robots
Blueneck
The Winchester Club
Suffer Like G Did
Charlie Barnes
Memory of Elephants
Big Joan
AK/DK
Adding Machine
Samoans
Waking Aida
Wicket
Sleep Beggar
Howard James Kenny
Super Squarecloud
Flies Are Spies From Hell
ArcTanGent takes place at Fernhill Farm, Somerset and will take place from August 28th to 30th. Tickets for ArcTanGent are on sale now and can be purchased here.