With 2018 being another strong year for music, you'd think 2019 might have trouble topping it. Nevertheless, with a load of anticipated albums, tours and festivals already been announced, we think the next 12 months will be as eventful as ever. And that's not even including the wealth of up-and-coming talent that will be filling your ears up. That brings us to our annual list of "Bands To Watch" over the next year.
In years gone by, we've highlighted a whole load of names who have gone on to do amazing things with Code Orange, Black Peaks, Creeper, Boston Manor, and Pvris being amongst them. While last years included Holding Absence and Stand Atlantic. So what should you be checking out in 2019? Well, we've got splendid indie math-pop hooks, blazing power violence beat downs, haunting melodies, gloomy tech metal riffs, melodic punk rock anthems and pretty much everything else in between.

Follow us on Spotify for more playlists.
---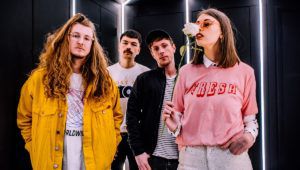 Orchards
What a year 2018 was for Brighton-based Orchards. As purveyors of sparkly math-pop since their self-titled EP way back in 2013, they've been operating under the radar, steadily releasing bright, catchy gems until finally catching wider attention in 2017 with 'Peggy', a glittery jewel of a song full of back and forth riff-work propelled by Lucy Evers' syrupy voice. The song eventually wound up on their very well-received mini-album 'Lovers/Losers', released in July on Big Scary Monsters. Its release garnered much critical praise and earned Sam Rushton a nomination for best new guitarist by Total Guitar magazine.
This momentum provided a stepping stone and the four-piece has progressed to playing bigger shows in London supporting bands such as Fatherson. With their first headline tour scheduled for the end of March and a debut album hinted at, they have finally reached a point where everyone can see how brightly they shine. (IK)
---
Ithaca
Ithaca is a name that has been kicking around the UK hardcore scene for the best part of the last five years, yet 2019 is considerably set to be their breakout year. Coming from the suburbs of South London, the quintet have been honing their brand of mathy, melodic hardcore across two EPs and numerous tours, including shows supporting Employed to Serve, Venom Prison, and Renounced.
Their debut album, 'The Language of Injury', is set to drop in early February and is said to be their most emotionally raw material to date, going beyond their hardcore origins. The title track gives us an idea of what to expect; stirring, frenzied and off-kilter yet completely immersive. While 'Slow Negative Order' is equally relentless yet underpinned by a haunting melody. Together, both tracks are sure to get your heart racing with anticipation.
It's also being released through Holy Roar Records, who pretty much couldn't do anything wrong in 2018. With Ithaca now on their roster, they're on to another surefire success, one that is filled with crushing despair. (SR)
---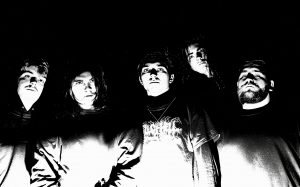 Parting Gift
When Manchester's Parting Gift released their debut single 'In Mind' back in 2017, you knew they were onto something. A weighty slice of emotional hardcore laced with interweaving guitars and a big, curiously effective chorus, you couldn't help but listen. Subsequent singles 'Asleep' and 'Be Still' have expanded and deepened their music, without giving up the fragile, heart-wrenching vocals or memorable hooks. This progression can clearly be heard on last year's double A-side, 'Vein'/'Rensing', two soaring pieces showing off the band's maturing songcraft.
Relentless touring has seen them play headline shows across the country and even in Europe, supporting Neck Deep. Shrewdly, they've taken photographers along for the ride, hence their social media presence has been both stylish and arresting, with eye-catching images presented in smeared black and white, garnering them an ever-growing fanbase. With more tours announced and an album the next logical step, it won't be long before they hit the big time. (IK)
---
Bitch Falcon
When we talk about grunge, it's naturally a product of its time used exclusively to describes Seattle's alt-rock trailblazers and the legions butt-rock impersonators that turned it into cheap radio fodder. On the other hand, when we consider grunge's effect-pedal heavy, often dreamy and catchy-as-hell approach to songwriting, we can see bands like Milk Teeth, Teenage Wrist and LTNT using that style to make some of the most biting rock music at the moment.
So when we call Dublin three-piece Bitch Falcon a grunge band, it's no throwback terminology. Rather, it's an appraisal of their irresistible hooks and soaring melodies mixed with crushing layers of distortion and hazy vocals found on their self-titled EP from the doomy meander of 'Of Heart' to elegantly crafted anthem 'TMJ'. Latest single 'Prime Numbers' elevates their sound to a more textured dreamscape and Lizzie Fitzpatrick's vocal range fills that open space effortlessly.
Bitch Falcon's less-is-more approach has us dying to hear more of what they have to offer, and the ambitious approach to 'Prime Numbers' suggests they have more up their sleeves than initially expected. You can call it a grunge revival, but Bitch Falcon have the potential to become something bigger. (AD)
---
Candy
A dizzying fusion of blast beat driven power violence rhythms a la Spazz or Despise You and dense beatdowns, with enough D-beat and two-step sections to get the old school HC fans looking up from their Bad Brains and Discharge records, 'Good to Feel' by Richmond upstarts Candy captured the attention of every type of hardcore aficionado with 17 minutes of blistering hardcore fury.
With years of experience behind each member playing in other Richmond bands, Candy is the culmination of everyone's shared experience merged into one cohesive sound. It means in the space of one track, you can go from being battered around the side of your skull by the bulked power violence sections to finding yourself in the middle of crushing Southern grooves that you can't help but move to. It's not painful, it's triumphant.
In 2018, Candy have toured with everyone from Terror to Fucked Up, and their uncompromising performance and obvious aim for world domination means it can only be a matter of time before we see them on our shores. And when they do, your local HC community can kiss your favourite venue goodnight. (AD)
---
Minors
Having released a slew of incredible albums last year, it seems only fair that Holy Roar continue to output amazing music in 2019. One such anticipated release is the debut album by Canadian hardcore/metal crew Minors. Entitled 'Abject Bodies', we hope to hear a showcase of mind-blowing dissonance, breakneck speed tempos and gut-wrenching heaviness from one of Canada's heaviest imports.
Since the release of their label debut EP, 'Atrophy', the band have toured in their native Canada with highly regarded sludge bands such as Primitive Man, Homewrecker and Spectral Voice. They released 'Flesh Prison', a vitriolic powerhouse track that shakes your very essence, at the tail end of 2018 to promote their upcoming album which is scheduled for release on 22nd February. If the EP and this single are anything to go by, we can surely expect the album to be another enticing release from Holy Roar and Minors. (DW)
---
A.A. Williams
Arriving with a sense of mystery, A.A. Williams could be viewed by some as stylistically departure for Holy Roar Records. While it's a label known for releasing distorted, heavy music, Williams' ethereal approach does encompass Holy Roar's heavy ethos through her emotionally dismal delivery.
Set for release later this month, her self-titled EP is a breathtaking and compelling four-track offering. Comparisons to Emma Ruth Randle, PJ Harvey and Cat Power have already been made, yet Williams' debut outing has all the traits to make her stand out in her own unique spotlight. Both 'Cold' and 'Control' have received countless repeated plays at Already Heard HQ. Clouded over by a dark, gothic influence, both songs swell with soothing ambience and crippling rawness, resulting in a stunning introduction to Williams' tender and powerful songwriting.
Once the EP is released, we're sure the mystic around Williams will unravel, even though details of live dates are sparse. Nevertheless, being part of Holy Roar's showcase at the Roadburn Festival is the Netherlands in April is sure to ignite A.A. Williams' reputation further. (SR)
---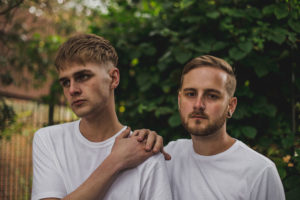 Delaire, The Liar
Having appeared out of nowhere last summer with 'Not Punk Enough', you could say Delaire, The Liar came straight out of the gates with plenty of momentum. Delivered with plenty of raw emotion and musical complexity, the London duo of vocalist/guitarist Ffin Colley and drummer Joey Bradshaw have quickly won over plenty of admirers.
'Not Punk Enough"s five songs are bristling with fragility and an assured message of self-belief and to confront self-doubt. Highlights such as 'Medicine', 'Witch Hunt' and 'Guilt & Recourse' radiantly capture the duo's sonically powerful sound and intricate lyrical execution.
Since its release in June, Delaire, The Liar have proven to be a force on stage, backing up any hype that has proceeded them. Most notably, they supported Creeper at their (final) show at Koko in London this past November. Not bad for a band who are barely six months old.
2019 is sure to see DTL's reputation continue to rise with imminent tours with The Young Hearts and Frown Upon lined up, alongside an inevitable second EP. (SR)
---
Lotus Eater
Hailing from the gritty streets of Glasgow, Lotus Eater has the distinction of being the first heavy British band to join Hopeless Records. While that's an impressive feat to have, the quintet isn't holding back. In their own words; "we are here to take over!"
As recent singles, 'Break It' and 'The Fear', show Lotus Eater thrive on delivering unhinged, domineering heaviness that is claustrophobic and chaotic in equal measure. Inspired by the urban poverty that is riddled throughout their hometown, they fearlessly combine down-tuned grooves with a confrontational attitude and brutal execution.
It's considerably an entirely different approach to what they were doing before becoming Lotus Eater. Four-fifths of the band were part of post-rockers As Daylight Fades, yet the addition of vocalist Jamie McLees changed all that.
With a label debut expected sooner rather than later, as well as stints supporting Parting Gift and Last Ten Seconds Of Life, you can expect to hear plenty of Lotus Eater's gloomy tech-metal to seep into your subconsciousness, whether you like it or not. (SR)
---
Kalloused
From the south coast of the UK, four-piece Kalloused have been making a name for themselves over the last few years. From 2017's criminally under-the-radar 'Damn You Believer' to destroying shows all over the country, their filthy take on blackened sludge metal is something that is truly massive.
While they sound incredible on wax – 'Pt.2' off their debut is an absolute ripper – their live show has been consistently praised as they've obliterated every grimy basement they've set their foot in. Their vocalist is a sight to behold, dominating pits with an energetic performance. With new music hinted to be on the way and no signs of slowing down their tour schedule, 2019 could be the year Kalloused get the recognition they've earned. (SS)
---
Gatecreeper
If you're an avid follower of the underground metal scene then Gatecreeper is a name that should sound familiar. Since their debut 'Sonoran Depravation' came out in 2016. Gatecreeper have been relentlessly touring their brand of intoxicating 'caveman' death metal. Having supported Nails, Code Orange, Turnstile and Cannibal Corpse, as well as Post Malone being a fan of the band, they're fast becoming a staple of the underground metal scene.
Death Metal as a whole is something that has been done time and time again, but what Gatecreeper do is focus more on the buzzsaw riffs and punchy songwriting that leaves you in a constant headbang. Three years have passed and the world is more than ready to hear what the Arizonian metal crew have to offer up in 2019. Relapse Records, one of the undergrounds finest labels have confirmed that the band will be releasing new music this year. (DW)
---
Spiritbox
Iwrestledabearonce sputtered to a halt after making 2015's 'Hail Mary', a heavier, darker record than their previous work. The band's fate was sealed when vocalist Courtney LaPlante departed, founding Spiritbox in 2017 with the band's former guitarist (and her husband) Mike Stringer, resulting in a technical metal project designed to show off her vocal range.
Over a soundscape of djent-y riffs, impressive guitar work and echoing lead lines, LaPlante mixes haunting singing and lung-shattering screams. Last year's self-titled debut EP was both beautiful and frighteningly powerful, enough to make you sit up and take notice. In the last month, they have followed up with a cluster of new singles. 'Electric Cross' is heavier, faster and more varied, while 'Perennial' explores more shimmering, expansive territory, boding well for a full-length album. Having recently signed with a European booking agent, there's a tour in the works and they're on the verge of catching everyone's attention. (IK)
---
Canavar
Southampton quartet Canavar are going to stand out on any lineup you put them in. Their 2018 self-titled album opens with breakneck skate punk rhythm sections complete with galloping drums, and within a minute-and-a-half, the proverbial skater has evolved into a steel-clad beast fuelled by Maiden-esque shredding and guttural growling.
Listing everyone from Slayer and Sick Of It All to Hot Water Music and 88 Fingers Louie as their influences, Canavar manage to craft that delicate balance of punk and metal in a neatly crafted melting pot where the aggressive vocals aren't awkwardly shoehorned in for the sake of brutality. Frontman Deklan Webb nails this marriage of styles vocally, with a gruff melodic style a la Chuck Ragan that transitions into morbid bellowing with ease.
While there's a franticness and a fury to these songs, there's an undeniable catchiness to Canavar, with tracks like 'Devils In the Details' and 'Brick By Brick' offering sing-along hooks and a directness via performance impossible to divert your attention from. It's this commanding presence that fuels their songwriting and live shows. They may be an anomaly on most lineups they appear on, but we guarantee they'll steal the show from any other band playing. (AD)
---
River Becomes Ocean
2019 is set up to be a vital year for River Becomes Ocean. Blending cinematic soundscapes with ruthless post-hardcore riffs and anthemic choruses is what this Brighton quartet are all about. Having tested the waters with several EP releases, they're kicking off the new year with the release of their debut full-length; 'A Motion Paralysed'.
In a world filled with political uncertainty and social tension, River Becomes Ocean's intentions are to be the light at the end of the tunnel, not to rise against but to give people hope. A trio of recent singles, 'Addicted', 'You Said' and 'Silence Means Nothing', have already laid down a foundation of musical diversity. 'Addicted' is a slice of infectious post-hardcore with chugging guitars while 'You Said' sees them harmlessly embrace their pop sensibilities. Whereas 'Silence Means Nothing' is a crushing, stirring number with cinematic tendencies. Oh, and it also sees Liam Cormier of Canadian hardcore legends Cancer Bats dropping in.
With a thought-provoking album in their arsenal, don't be surprised to see River Becomes Ocean popping up at a venue near you soon. (SR)
---
Press Club
We all know now that Australia's underground scene is brimming with musical talent and 2019 looks set to continue the trend of breakout bands making themselves known here in the UK and beyond. Amongst them is Press Club.
Hailing from Melbourne, the quartet look set to invade these shores in the coming months and it all begins with the release of their debut album, 'Late Teens', on January 25th. Dripping with a brash and frenzied energy, it sees Press Club give a self-assured account of displacement, relationships, gentrification and inequality. Ultimately, they capture the precariousness nature of being stuck and frustrated with life.
Fronted by the firey and assured vocals of Natalie Foster, Press Club have already been winning over admirers back home, and with songs such as the infectious buzzsaw that is 'Headwreck' and the defiant 'Suburbia', they're certain to do the same over here. Look out for debut UK shows in the coming months. (SR)
---
Spielbergs
When Spielbergs made their arrival last February with 'We Are All Going To Die', it was greeted with a wave of excitement and praise. And rightly so. Delivered with urgency, it was a stirring, rallying cry of mortality drenched in fuzzy, 90's indie-rock guitars. As the 'Distant Star' EP showed, this Norwegian trio was more than just a one trick pony. Having showcased depth and variety already, Spielbergs enter 2019 full of confidence.
Making sure to ride the wave of momentum 2018 handed them, a debut full-length, 'This Is Not The End' and a first UK tour is a surefire way to kick off the year. With both pencilled in for next month, the aforementioned LP aims to build on the emotionally wrought songs that 'Distant Star' produced. For example, '4AM' radiates with lyrical despondency, anxiety and hope as post-punk instrumentation run through their veins.
Punchy and defiant, we feel Spielbergs would go down well with bands such as Beach Slang. (SR)
---
Dear Seattle
As we write this in the cold British winter months, we're quite envious of Australia's Dear Seattle and their brand of beach-ready, melodic punk rock. However, with songs as addictive as 'Maybe' and 'Daytime TV' then they can be forgiven.
Over the past five years, the Sydney quartet have been paying their dues Down Under; playing shows alongside familiar names such as Citizen, Emarosa, Trophy Eyes and Columbus and touring up and down the Australian East Coast, all the while honing their sound. Now as a new year starts, they're preparing to release their debut album – 'Don't Let Go'. Almost two years in the making, it promises be bristling with melodic punk gems that are as heartfelt as much as they are anthemic. The previously mentioned pairing of 'Maybe' and 'Daytime TV' certainly have our hopes up. Look out for 'Don't Let Go' from mid-February. (SR)
---
Remo Drive
The last two years has seen a surge of emo-tinged rock, and Minnesota's Remo Drive have managed to separate themselves from the typical with their brand of blunt yet comforting rock music. 2017's ambitiously titled 'Greatest Hits' was the kind of debut album that doesn't come about often, a project where every single song feels like it could have been the lead single.
Now operating as a duo, they teased a brighter sound with last summer's 'Pop Music' EP. While it was great to see them having fun despite a member moving on (the 'Blue Ribbon' video is pure retro magic), it also proved that they were capable of adapting, evolving and growing. With plans for a sophomore album this year, Remo Drive look to solidify themselves as one of the rising stars of their scene. (SS)
---
Swimming Girls
Listening to Bristol quartet Swimming Girls is like watching scenes from timeless coming-of-age movies. Every twist and turn of their shoegaze-laced dream pop is a buildup to or release of overwhelming floods of emotion of every sort.
'Tastes Like Money' douses listeners in pure euphoria, while 'Asking For It' has the bittersweet tone of heartbreak and the need to grow from it, that summons cruel imagery of lonely contemplation during a post-breakup walk home in the dark. Even the sensual themes of 'Back of Your Car' are fuelled by unnerving optimism that shines through its 80's-drenched pop melodies.
With five singles under the belt so far, every song sees Swimming Girls blend their creative energy to create a fluorescent blend of yearning pop rock, that captivates listeners in every aspect. Each riff, keyboard jangle and every one of Vanessa Giménez's lyrics wrapped in both youthful naivety and film noir mystery all wrap listeners in their irresistible charm and intrigue. A full album would make for essential listening, so here's hoping 2019 is the year they deliver. (AD)
---
King Woman
Over the last couple of years Kristina Esfandiari has had a whirlwind few years as a musician. As well as making silky smooth dream pop under the guise of Miserable, she also fronts the doom metal/shoegaze outfit King Woman. Formed in 2009, she sought to create brooding and haunting heavy music and this was achieved with the EP 'Doubt', and their Relapse Records debut album 'Created In The Image Of Suffering'.
The album focused heavily on the "catharsis of religious and mental torment" that Esfandiari faced before King Woman, and it is noticeable throughout. In 2016 the band performed an Audiotree live session to support the album and the wall of sound produced by the group is a grandiose effort that is one of Audiotree's finest sessions. Now that they've signed to Sargent House, here's hoping that they can bring out more "dream-doom" metal in 2019. (DW)
---
Beach Bunny
Chicago's Beach Bunny (AKA singer-songwriter Lili Trifilio) has been steadily bubbling under the radar, producing alt-pop tunes that artfully walk the line between brutal truths and sugary sounds. With a handful of incredible singles ('Sports' is absolutely perfect) and last year's 'Prom Queen' EP, she's proven herself to be a powerful songwriter that is infinitely more than the "sadgirl" character people like to throw around.
2018 was Beach Bunny's year for growth. Steadily perfecting a live set-up, releasing music, playing shows and defining their sound over the last twelve months means they're coming into 2019 hot. The training wheels are off, and the way they navigate their forthcoming debut album will be some of the most exciting moments in their career to hear. (SS)
---
Prince Daddy & The Hyena
On 2017's 'I Thought You Didn't Even Like Leaving', we were treated to some of the finest, angst-ridden and relatable music the modern wave of emo has offered up to us. Prince Daddy & The Hyena's debut was a perfect character piece for the band, drenched in personality and unafraid to cover some of the most unique quirks of today's youth.
Touring with the likes of TTNG and labelmates Mom Jeans. has seen them grow over the last year, including the unforgettable moment one of their members proposed to fellow songwriter Kississippi on stage. After a brush with danger in November when their van crashed, they're ready to get back on top. With a new album in the works and an upcoming tour with Macseal, 2019 looks to be bright for the emo rockers. (SS)
---
Pleiades
We first came across Pleiades just over two years ago when we labelled their debut EP, 'Symptoms of the Human Being', as "extraordinary". While there has been little evidence of new material since then, the Mancunian five-piece haven't been sat around not doing anything. Instead, they've steadily been building a formidable live reputation having shared stages alongside names such as Free Throw, Dryjacket, Wren and Chapter & Verse.
Their seamless mix of post-rock and emotive post-hardcore is a winning combination. It's one that has seen the quintet be compared Devil Sold His Soul, Explosions In The Sky, Circa Survive and Thursday. The aforementioned 'Symptoms of the Human Being' EP may have considerably set the bar high with its timely executed structures and untethered emotion. Nevertheless, Pleiades are rumoured to have been preparing new material for release over the next 12 months. We wait with bated breath and be prepared to be blown away. (SR)
---
The Sunny Devils
Glasgow trio The Sunny Devils inadvertently found themselves involved in one of the strangest music stories of 2018 when they played a near-empty Ivory Blacks on the 5th November in support of Los Angeles imposter-come-full-band Threatin. And while we'd like to forget that ordeal in a hurry, this three-piece and their self-titled EP isn't going to leave our heads any time soon.
Released in December and still fresh in our heads, The Sunny Devils let bassist John Howell take the steering wheel across these four tracks. This isn't to shun the performance of drummer Anton Lafferty or vocalist/guitarist Steven Warnock, whose versatile vocal range gives their survivalist lyrics an air of danger like a Scottish Josh Homme. But it would be foolish to deny Howell's fuzzed up four-strings directing the immensely groovy and effortless swagger that these songs revolve around, before picking up the pace to create lumbering thrash pop thunder.
With traces of Primus, Faith No More and mid-nineties Metallica make its way into The Sunny Devils' self-titled cocktail, there's enough substance throughout to make this a wholly original creation worth the attention of fans of both alternative rock and metal alike. Let's hope that 2019 brings more opportunities for them, especially ones that let them play with real bands instead. (AD)
---
The Dunts
Generating plenty of buzz from their self-released EPs 'Not Working Is Class' and 'Self-Proclaimed Council Punk', Glasgow four-piece The Dunts are guaranteed to make a serious dent on the UK's punk scene. And make no mistake, there's enough raw energy between the four of them to keep that momentum going long after.
Alternating between abrasive spoken word delivery on tracks like 'Tommy' and 'G53' and heart-on-sleeve sincerity on 'Birds and The Beez' and 'Ride the Wave' frontman Rab Smith brings is a beacon of bright and cheeky personality that's impossible not fall in love with. As a unit, every song is delivered with a frantic urgency and consistent pace that recalls the devil-may-care attitude of the Dead Boys or Buzzcocks disguised as a post-Britpop indie band.
There might not be any new releases confirmed as of yet, but after you hear to 'Dimitri' for the first time, you'll be perfectly content listening to it on a loop for hours. (AD)
---
Words by Sêan Reid (SR), Andrew Davidson (AD), Ian Kenworthy (IK), Sam Seaton (SS) and Dylan Whitty (DW).